Tuesday, October 20, 2009 at 8:06PM

I'm no expert on character design, but I do like to think about it. Here's an opossum I've been doodling a lot lately and some of the ideas behind it.

I wanted a character that was cute and unassuming. I've always been a sucker for anthropomorphic animals (from the Ninja Turtles to Hobbes, Miss Piggy to Usagi Yojimbo). Animals have outlandish features that can help make them more expressive, and I feel like I have more leeway in the proportions of animals. No one is completely sure how an opossum would stand like a man, we've got a pretty good idea of how a man stands like a man.
As I started out with the character I wanted to keep things simple and rough. His hands and toes are limited to three digits a piece, his body is mostly circle and the limbs can be extended from there. The entire outline then gets covered with rough hash marks to make the fur. I've joined the eyes together into one piece (like Sonic the Hedgehog). That way the eyes form the opossum's brow as well. His head and ears are merely circles and he has a triangle for a snout. A dot for a nose and a few stray lines for whiskers complete the character. I've found that my drawings are a lot more consistent when I break them down into shapes. I'm not sure if this is a flaw or a perk, it has kept my work decidedly simplistic.
Still the more I draw him the more of a personality he seems to have. Repetition, repetition, repetition. The more I hear people talk, the more I think art is 100% dedication. I'm not sure anything else matters. I like that the character has proven easy to manipulate from position to position. He's creeping into everything and I've been working him over in a few different mediums as well. This has also proven helpful for experimenting with things like the conte, which I'd never used before. It gave me a quick sketch to hold the colors and allowed me to really have fun experimenting with how the colors worked and blended together. I love how this one turned out.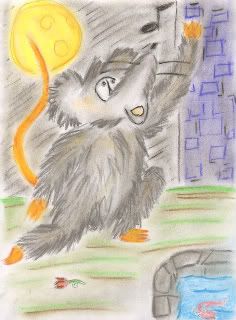 -Jon O