Tuesday, October 6, 2009 at 10:35PM
Comics, at least as far as my understanding goes, are a medium inextricably linked with deadlines. Comic strips are released weekly, books come out monthly. Even graphic novels need to be finished and displayed in a timely manner. I don't remember the artist that said it, but the crux of the argument was that a comic artist isn't a comic artist until they've done a monthly book. Getting your work out on time is a rite of passage of sorts.

With this in mind I thought the best course of action for my comic strip Public Education would be to backlog a bunch of strips before any of them went live on the site.

I still think this is a good idea, but when I decided to get the strips into the computer I started running into problems.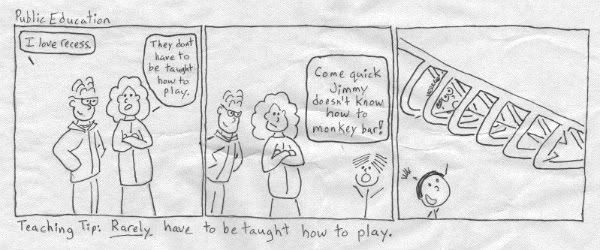 The scans came off sloppy. The lettering is too small. The pages have wrinkled and creased. It's just not what I wanted the comics to look like. Close, but not quite. I had completed thirty some strips by the time I became aware of this series of problems.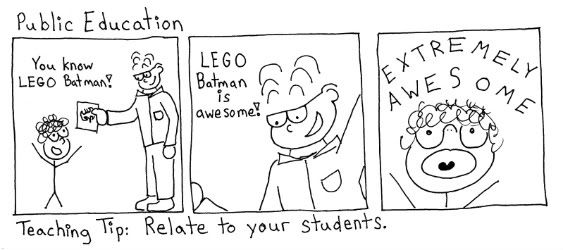 After I'd seen these problems I've adjusted some things. I'm writing the fonts bigger. I'm scanning the pages the same week they're finished. I'm making sure that the strip is ready for consumption before I move on to the next project. I'm much happier with these new strips and I think I should be able to improve a lot more rapidly now that I have a better understanding of what the final product is going to look like.

I still think that building up a back catalog is a good idea, but stopping halfway through the process is a bad idea. Finish your work before you move onto the next piece. It'll help the finished work improve, as well as giving you a lot more feedback on what needs your attention next time.
-Jon O